We don't normally post furniture makeovers, but not every piece is this Volkswagen dresser! Larissa Haynes of Northeast Ohio calls it a wonderfully redeemed piece of furniture. Larissa brings life to cast-off furniture with her small shop, Prodigal Pieces. She transformed an outdated, art deco cabinet to become this awesome Volkswagen dresser!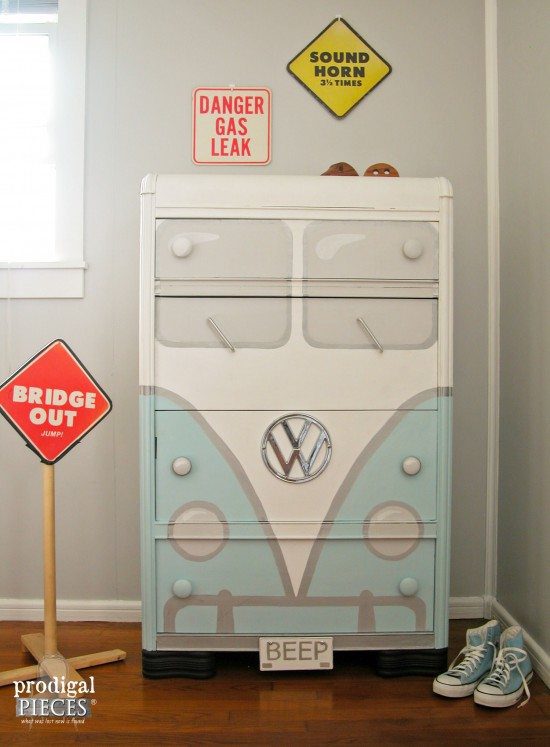 Larissa picked up this old dresser from a garage sale. It was originally marked for $5 but the seller gave it to Larissa for free –  just to get rid of it! The first thing that Larissa did to the outdated dresser was remove the snaggle tooth veneer. There were 2 layers of veneer lining both the outside and the inside of the dresser.
Larissa used her towel-soak method to remove 2 layers of veneer in one go. This involves soaking a bath towel in water (and nothing else) and laying it on the veneer overnight. Larissa recommends using a lot of water for this. The next day the veneer will peel like butter off of hot toast!
After peeling off the veneer, the dresser was ready for a light sand.
Next the soon-to-be Volkswagen dresser got a primer coat.
Larissa then traced the outline of the Volkswagen bus onto the primed waterfall chest. She used a piece of cardboard to trace the rounded-square windscreen. Bowls and other round objects were perfect for tracing the bus headlights.
The dresser was then painted with aqua, white and shades of grey. We love the windshield wiper drawer pulls and the BEEP license plate! Of course what really finishes this piece off is the authentic Volkswagen badge that Larissa ordered off of eBay.
This Volkswagen dresser is an awesome inspirational piece. It's the kind of upcycle that showcases exactly what is possible with a bit of elbow grease and lots of imagination.
This Volkswagen dresser has already sold but you can check out Larissa's other creations on her blog, Prodigal Pieces.