These gorgeous vintage suitcase shelves come via Ki Nassauer. Ki is the queen of vintage and has made a career out of junk. As the editor-in-chief of Flea Market Style magazine, Ki created these shelves using discarded suitcases. We absolutely love this look and think these suitcase shelves make for an awesome project! Keep reading for the instructions on how to make your own.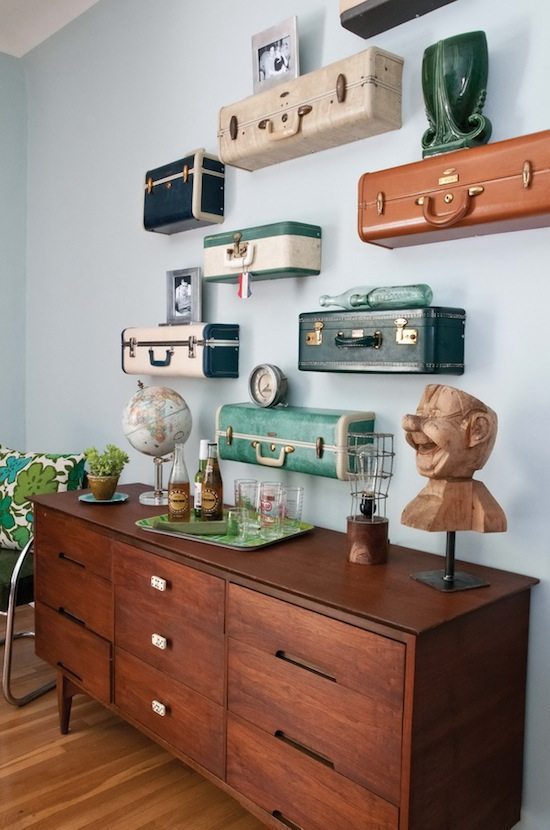 How to make vintage suitcase shelves:
1. Find your luggage
To make your own vintage suitcase shelves you must first source some sturdy and stylish old suitcases. We recommend taking a trip (or two) to your local flea market and checking out the antique postings on online classified websites.
2. Trim the luggage down to size
Once you have gotten ahold of your suitcases it's best to remove the fabric lining from the inside. This will make sawing easier. Next decide how deep you want your shelves to be and then wrap painter's tape around the cases where you want to cut them. Draw a crisp line on the painter's tape to guide your cut. To cut through the cases, use either a scroll saw with a metal blade or a first a table saw and then a jig saw with a metal blade. The metal blade is important as most vintage suitcases will have a metal band that you need to cut through.
3. Make mounting panels
You will be hanging your vintage suitcase shelves with the help of wooden mounting panels. The panels will need to fit inside of openings of the cut suitcases, so measure each opening and cut a board to fit to size. Next you'll want to decide where on the wall to mount your shelves. In order to get the perfect placement, use scrap pieces of paper cut to size for each suitcase board. Play around with the placement of these and tape them to the wall as a visual guide. Once you are happy mark the places on the wall where the suitcases will be hung.
4. Hang your suitcase shelves
Take your drill and using 2 1/2 inch screws, attach your mounting boards directly to the wall. Check with a level that the boards are straight, then fit your suitcases over the boards. Finally secure your suitcases to their panels by screwing two 3/4 inch screws into each side of the suitcase, fixing the suitcase to its mounting board.
Sources:
This tutorial referenced projects on Red Hen Home and Instructables
Find out more about Ki Naussauer and Flea Market Style here