It's pumpkin time! Celebrate the season by creating an upcycled pumpkin. There are so many cool options reusing different materials. Upcycled pumpkins are perfect for Halloween or Thanksgiving decor. Here are our top 10 favourite upcycled pumpkin ideas.
1. Sweater Pumpkins or Sock Pumpkins
These upcycled sweater pumpkins are simple and gorgeous. You can use sweater sleeves to make a larger pumpkin, or socks for smaller ones. For sweater pumpkins, cut off the sleeves and turn them inside out. Tie the cut edge with a piece of string. Turn the sleeve the right way and stuff it with fiberfill or upcycled fabric scraps. Sew the top shut. Create a ridge by wrapping thread around the pumpkin. After your first ridge, take the needle and thread and stick it through the top again. Repeat the process until you have four or five ridges. Finish the upcycled pumpkin by gluing a branch to the top. If you'd like, add a fabric leaf.
Sources: Hometalk & Whimsy's Workshop
2. Burlap Pumpkins
It's easy to make an upcycled pumpkin with some old coffee bean bags. The process is easy. Stuff a plastic shopping bag with other plastic shopping bags. Cut your burlap into a square. Place the stuffed shopping bag in the center and gather the corners of burlap at the top. Secure with jute string. To add ridges, wrap the pumpkin with jute like you're tying a present. Wrap the loose burlap at the top with jute to make the bent stem.
Source: Upcycle That
3. Fabric Pumpkins with Cabinet Knob Stems
We love this take on Fabric pumpkins. They've got the sweetest cabinet knob stems! This is a perfect project for using fabric scraps leftover from other projects. A great reuse for cabinet knobs as well.
Source: The Interior Frugalista
4. Canning Lid Pumpkins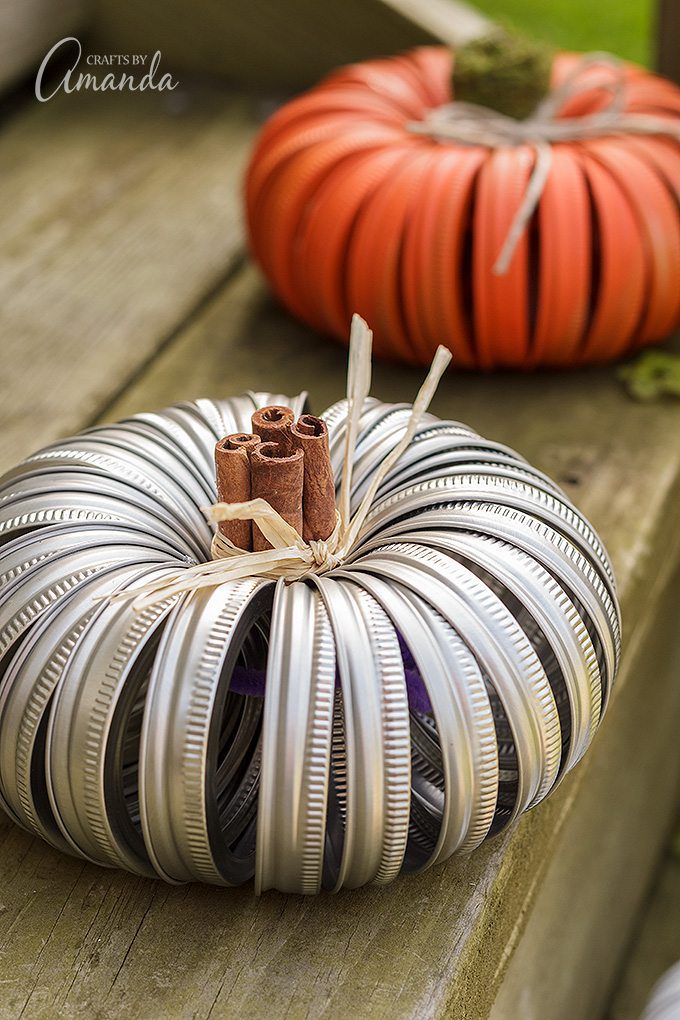 These canning lid pumpkins are an easy upcycled pumpkin craft. Spray paint the lids if you want your pumpkin to be orange. Allow to dry. Thread a pipe cleaner through the lids and twist to secure. Make a stem by hot gluing cinnamon sticks together and then gluing them inside.
Source: Crafts By Amanda
5. Book Page Pumpkin
Turn an old book into an awesome upcycled pumpkin! Remove the front cover of the book and trace the shape of half a pumpkin onto the first page. Place a cutting mat a few pages into the book and cut using an craft knife. Use this template to cut the rest of the pages. Open your book and glue the first and last pages together with a hot glue gun. Secure the pages of the book with dabs of hot glue to create the rounded fan shape. Mist your upcycled pumpkin with orange spray paint and top it off with a leaf and a stem.
Source: BHG
6. Reclaimed Wood Pumpkins
This upcycled pumpkin project is great if you're handy with a jig. Sketch a pumpkin shape onto plywood and cut out this shape out with a jigsaw. Arrange your reclaimed wood on your plywood base and cut the lengths to about an inch beyond the length of the pumpkin. Put another piece of plywood on top to hold your planks steady. Flip your plywood sandwich over so that your cut pumpkin plywood piece is now on top. Add glue to this piece of plywood and put it on top of your reclaimed wood planks. Add brad nails throughout the plywood and some screws to secure your edge pieces. Place something heavy on top and allow to dry overnight. Now, using the plywood pumpkin as your pattern, follow the profile and cut the planks with a jigsaw. Drill a hole at the top and add a branch for the stem. Sand and stain the reclaimed wood pumpkins to your preference.
Source: Finding Homes Farm
7. Monkey Pod Tray Pumpkins
These upcycled pumpkins are made from monkey pod trays from the thrift shop! This project is easy to make. Just find some pumpkin-esque shaped trays, paint the bottom and wrap some ribbon and twine on top. Easy peasy!
Source: Sadie Seasongoods
8. Wind Turbine Pumpkins
This is the first repurposed wind turbine project we've ever seen! We have to say, wind turbines make for perfect upcycled pumpkins! Be sure to save your wind turbines if they need replacing. Otherwise, ask around at metal scrap yards. For the base paint, spray your wind turbines with a brown spray paint. Then use orange and gold acrylic paint to give them that gorgeous patina. Drill a hole at the top and add a crooked stick for the stem. Twist wired jute and add some leaves.
Source: Hometalk
9. Mason Jar Pumpkins
This mason jar pumpkin is a super cute idea. Perfect for decor and also for filling with seasonal goodies and bake mixes! Paint your mason jar and lid with acrylic paint. Glue on a knob and add some ribbon to finish it off.
Source: Positively Splendid
10. Gas Can Jack O' Lanterns
We are so into gas can pumpkins! This is an advanced upcycle project. Be sure to let us know if you tackle it.
Which upcycled pumpkin is your favourite?