There's something quite beautiful about the look of vintage tennis rackets. This upcycled tennis racket art by South African upcycler Danielle Clough is just brilliant. Danielle uses old tennis rackets as a canvas for her embroidered art.
Danielle studied art direction and works as a graphic designer in Cape Town, South Africa. In her free time she designs book covers, VJs, (video DJs) and makes embroidery. She got inspired to create tennis racket art when her friend showed her some simple hearts woven onto a racket. She took it as a personal challenge to figure out how to create tennis racket art showcasing her own unique style. She started with flowers as they were easy to experiment with. Danielle became hooked on the colour and depth possibilities of embroidered flowers.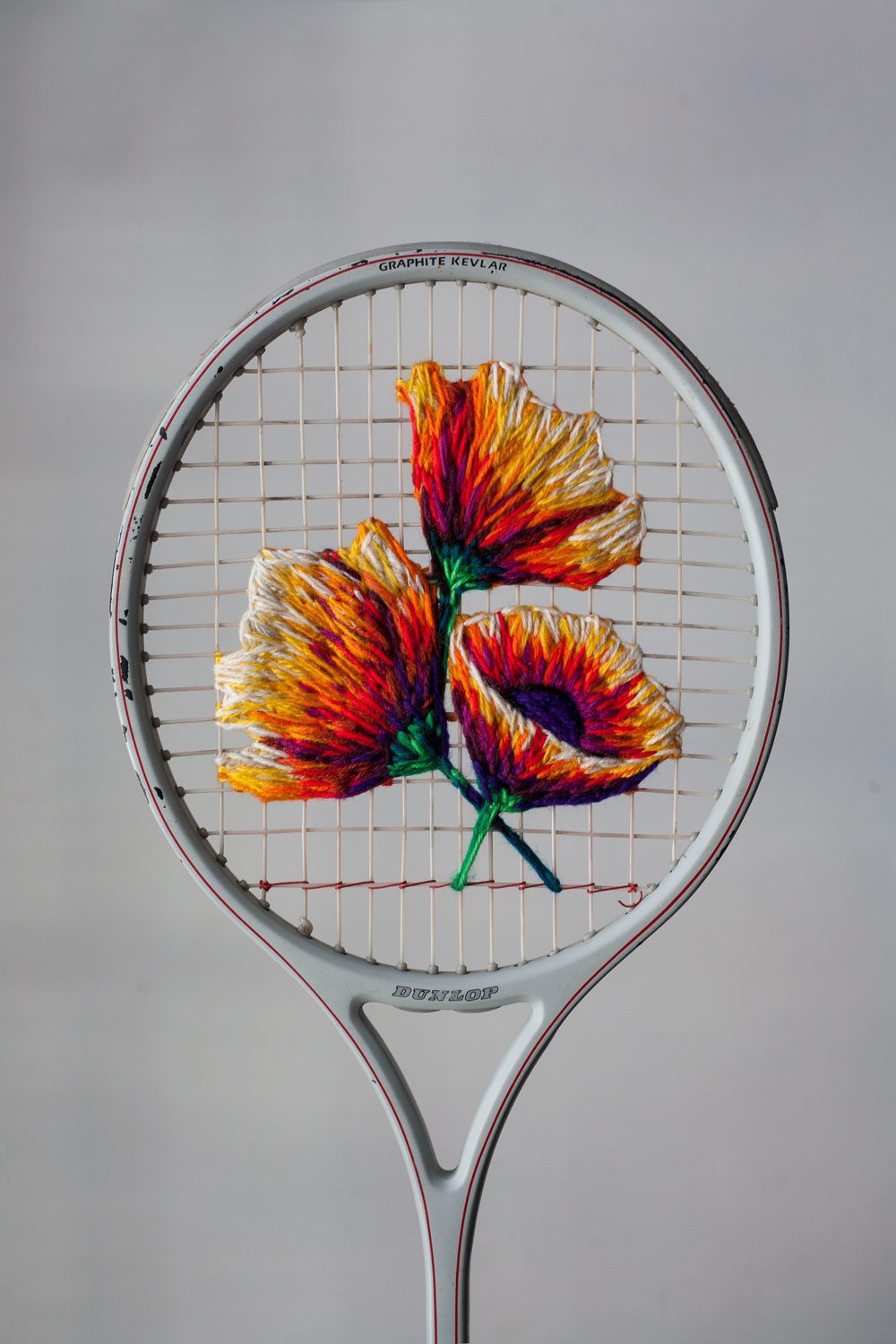 To create her tennis racket art, Danielle starts with a reference image. For this she will photograph flowers, or sometimes even paint to get clear on a direction on colour. She then embroiders the base and slowly builds up the details. It's similar to colouring in.
Danielle collects her tennis rackets from far and wide. She searches for them wherever she goes and gets lucky finding them at garage sales and thrift stores. She been gifted a few a well, some from as far away as New Zealand.
Danielle's says her favourite piece of tennis racket art is usually the last one she's completed. She finds inspiration through colours, photography, new materials and tools.
I find inspiration and motivation are two very different forces in creative work. Inspiration is like the strong flash of energy. Its the enthusiasm. I am motivated to follow through with these moments of inspiration so that I can live everyday making something that I am passionate about.
We are completely inspired by Danielle's tennis racket art! We love her innovative use of vintage tennis rackets and how they frame her skillful embroidery. Danielle's advice to aspiring upcyclers is: don't be shy to experiment, create and most importantly share your creations with the world. We look forward to seeing what she comes up with next.
Source: Danielle Clough