Matt Wilson is a sculpture artist from South Carolina. He makes incredible cutlery art. Originally a drawer and a painter, Matt applied to be a welder in a shipyard and began to make awesome scrap metal sculptures. Now a full time upcycling artist, Matt specializes in sculptures made out of found materials. We especially love his cutlery birds.
Matt's artistic journey with bird sculptures began when he was making a gas tank for a motorcycle. He noticed it looked like a bird head. So Matt began to make bird sculptures. The material has always been a big part of Matt's inspiration. The shape and form of an old discarded object reminds him of something and he'll go for it. For example, Matt noticed how the curve of a spoon could be the wing of a bird. This inspired him to begin making cutlery art.
When describing his creative process, Matt says he knows what he wants to do, it's about getting the piece onto the table and getting into the zone with it. To begin with, he'll envision and/or sketch out his piece, collect the materials, and then assemble them. Matt uses a variety of hand tools, an angle grinder and an MIG welder to assemble his upcycled cutlery artwork.
Matt's advice to aspiring upcyclers is to take the time to look at everyday objects from a different prospective. Be original.
I see an object somewhere, goodwill, scrap yard and I take it because it's cool or because it was a piece that I was looking for. A lot of it is putting it in the shop and remembering where it is so that I can use it later on.
Matt is influenced by natural elements, his art is a reflection of the environment in which he lives. We love this gorgeous cutlery art piece that he made for his wife when she was pregnant.
The upcycled work I create is a testimony to the belief of conserving and appreciating our resources, so that the environment in which we live will continue to be an environment in which we desire to live.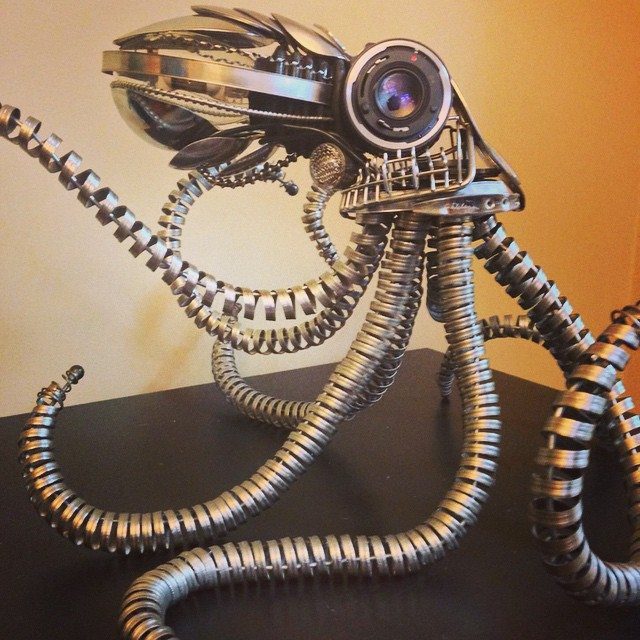 Matt's goal as an artist is to make unique upcycled artwork, recognizable for the material it previously was. He hopes that his cutlery art will inspire other people to appreciate simple, once-neglected materials.
Source: Airtight Artwork